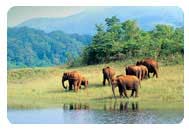 Befriend an elephant. Shake hands. Discover the elephant's point of view. Feast your eyes on the most exotic of wildlife. And realize that there's much more to life when a deer stops to look at you; when a monkey decides to renew acquaintance; when a blue-winged parakeet sings for you. In the lush green forest of the Western Ghats are some of the most delightful and adventurous trekking trails. The sanctuaries are also magnets for the serious wildlife enthusiast; rare species are found in scattered spots as well.
---
Peppara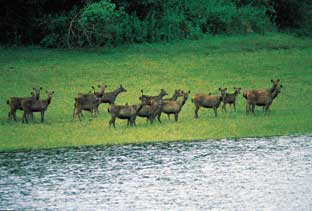 has a rich variety of flora and fauna over a rugged terrain with running rivulets, rolling hillocks and green meadows. This evergreen forest is populated with elephants, gaurs, barking deer, wild boar, tiger and Nilgiri Langur.
---
Neyyar
is a habitat for a over a hundred varieties of fauna including elephants, wild buffaloes, wild boar, tigers and many kind of snakes. A crocodile breeding centre and a lion safari park are added attractions of this sanctuary.
---
Shendruni
a green valley of splendid forests situated on the banks of Shenduruni river. On the northern side of the sanctuary is Palaruvi, a beautiful picnic spot.
---
Eravikulam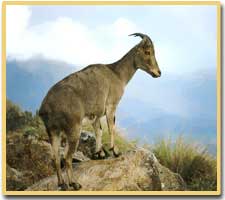 stands out for the stark beauty of its rolling grasslands and shoals. Anamudi, the highest peak south of the Himalayas, towers over the park in majestic pride. This is one of the wettest areas in the world. Established In 1975 to protect the Nilgiri Tahr, the Eravikulam Sanctuary was declared a National Park in 1978 considering Its ecological, faunal, floral, geomorphological and zoological significance. The park is breathtakingly beautiful and comparable to the Alpine Ranges. Now the number of tahrs has increased and they constitute the largest known population of tahrs existing in the world. In addition to tahr, the park shelters elephants, sambars, gaurs, lion-tailed macaque, Nilgiri langur, tigers and leopards.
---
Chinnar
is located in the rain shadow area of the Western Ghats. Unlike other sanctuaries, Chinnar has only forty-eight rainy days in a year. Wide variety of birds and animals like elephant, gaur, spotted deer, panther, sambar, the endangered giant grizzled squirrel, Hanuman Langur and rabbit can be spotted here.
---
Silent Valley National Park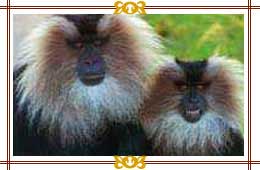 is the only park where one can find such a representative collection of rare species: over a hundred species of butterflies and four hundred species of moths and animals. It is accessible only by foot (24km approx) but will be an unforgettable adventure. The Silent Valley contains India's last substantial stretch of tropical evergreen rain forests and it is perhaps the only vestige of a near virgin forest in the whole of the Western Ghats. Elephants, tigers, wild dog, flying squirrel and lion-tailed macaque are found here.
---
Periyar Wildlife Sanctuary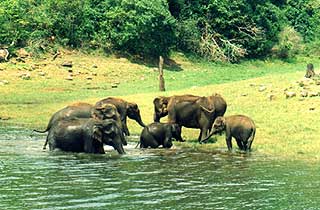 The most renowned destination is the Periyar Wildlife Sanctuary at Thekkady, one of India's major sanctuary areas. The drive to Thekkady itself is enchanting as the road winds through tranquil countryside, rich plantations and thick jungles. Periyar, the pride of Kerala and a testimony to Nature's splendours and Man's innovation, is situated on the banks of an artificial lake at Thekkady. It is noted for its geomorphology, wildlife and beautiful landscape. This is also an ideal place for fishing. In addition to the wildlife, there are water and land birds galore here, and one can sometimes find dedicated bird watchers setting in for one or two weeks of serious observations.
---
Parambikulam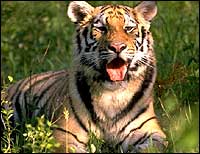 is a reservoir of tranquil greenery. It abounds in a variety of trees mainly teak, neem, sandal wood and rosewood. It also has a rich fauna. Sambar, chital, lion-tailed macaque and a few tigers and leopards are seen.
---
Wayanad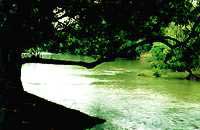 is the crowning glory of the rich biological heritage. Its dense, moist, deciduous forests are populated with elephants, tigers, jungle cats, bison, peacocks, woodpeckers and other animals and birds. Many tribal settlements can be seen on the outskirts of the forest.
---
Idukki Wildlife Sanctuary
The sanctuary is situated just above the arch dam. An area of 70 sq km of forest land between the Periyar and Cheruthoni rivers form an excellent habitat for wildlife. Elephants, bison, bear, wild boars, sambar, etc are found in this area. The lake on the three sides of the sanctuary offers tourists a panoramic view.
---
Thattekad Bird Sanctuary

This bird sanctuary is a peninsular land of 25 sq km formed between the branches of the River Periyar. The rivers are rich in fishlife and are shallow for most of the year. The avifauna includes both resting indigenous birds and water birds. The most notable of the indigenous birds are Malabar grey hornbill, grey jungle fowl, heron, egret, jungle myna, woodpecker, and rose-winged and blue-winged parakeet. Rare birds like Ceylon frog-mouth and rose-billed roller are also seen.
---
Kumarakom Bird Sanctuary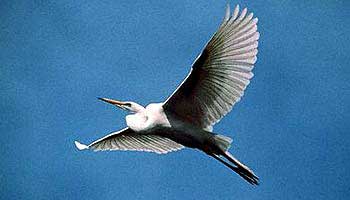 Located on the banks of the Vembanad lake, the Kumarakom Bird Sanctuary, an ornithologists paradise, is a favourite haunt of migratory birds like the Siberian stork, egret, darter, heron and teal. Other common varieties like the woodpecker, skylark, crane, water hen and parrots can also be spotted here. A cruise along the Vembabad lake is the best way to experience the sanctuary. Pathiramanal, an enchanting island on the lake, can be accessed by boat from here.
---
Pathiramanal
This 10 acre island on the backwaters is home to may rare varieties of migratory birds from different parts of the world.